Principal ECC NEC Site Supervisor OCC53491
Job details
Salary range: £42,821 - £45,859 per annum
Work location: County Hall, Oxford
Hours per week: 37
Contract type: Permanent
Why Oxfordshire?
Oxfordshire has a wonderful balance between beautiful Cotswold countryside and quaint villages and towns against the urban dynamic of the world renowned university City of Oxford and surrounding market towns. It is a thriving county with one of the fastest growing economies in the country with a rapidly growing science sector in the Science Vale area and around the county and is the base for many national and internationally recognised companies and organisations. Oxford has good transport links to London and the rest of the country.
Oxfordshire is investing to deliver infrastructure and support the provision of up to 100,000 new homes, to re-shape infrastructure and provide diverse and smart transport solutions for all.
About us
The programme is expected to run until 2031 and involves joint initiatives between the private and the public sector, providing an unparalleled opportunity to include yourself in a county-wide challenge.
The Construction and Contract Management Team is part of the Highway Infrastructure Delivery Service within Growth and Economy Directorate and supports the delivery of a half a billion pound plus capital infrastructure programme over the coming years.
About the role
You will act as a site supervisor professional in the areas of ECC NEC contract management, programme and budget management, contract design approvals, early contract involvement and site supervision.
You will lead a team of NEC Supervisors in the supervision of the delivery of a varied range of major highway projects. You will be working alongside the Quantity Surveyor and NEC Project Manager to provide construction and contract supervision of a variety of major transport projects. This will involve working closely with contractors, stakeholders and design teams to deliver quality and value for money. Your role will also be required to monitor and drive performance improvement and relationship management across all teams, internal and external.
If you are looking for a professional challenge and to develop your career this role at Oxfordshire County Council is the right choice for you.
About you
We are looking for significant experience in delivering construction and contract supervision of highway infrastructure projects. We are looking for management skills and experience of people involved in the delivery of construction.
Relevant accredited qualifications and experience of contract supervision and delivery of construction projects are essential. A good knowledge of CDM Regulations and Safety Regulations is essential.
Rewards and benefits
Working in local government is interesting, innovative and challenging. The commitment of our teams to public service is key to our delivery of all services including infrastructure.
Oxfordshire has invested time and resource to create an environment where people develop professionally and personally. Oxfordshire offers a generous and family friendly rewards to benefit life both at work and at home.
Rewards package:
29 - 32 days annual leave and flexible working arrangements where applicable.

Oxfordshire provides an excellent pension scheme, with employer contributions of up to 19.9% of salary

Relocation expenses of up to £8,000 for eligible new starters
Would you like to know more?
Application Procedure
To apply, you will need to complete an online application form. This includes a section asking you to explain how you meet the selection criteria, as specified in the job posting. You may attach a cover letter and/or CV to your application form, however it is not mandatory. 
In addition to completing the online application form, please attach an up to date copy of your CV and a supporting statement clearly defining how you meet the criteria of the role.
If you experience any difficulties whilst completing the application form, please contact the Recruitment Team using Recruitment Application Enquiry Form on the Home Page. 

Our commitment to:
Equality, Diversity and Inclusion
At Oxfordshire County Council we are proud of our diverse workforce. Everyone is accepted for who they are, regardless of age, disability, gender identity, marital status, race, faith or belief, sexual orientation, socioeconomic background, or on maternity or family leave. We have a number of staff network groups which provide peer support, education and safe spaces for all.

Our commitment to:
Guaranteed Interview Schemes
As a Disability Confident employer, we guarantee an interview for disabled applicants who meet the essential criteria for the job. We also guarantee interviews to care leavers who have completed further education and who meet the essential criteria for the job. For those leaving care without any further education, we guarantee an interview for our apprenticeships. We are also committed to helping and supporting those transitioning from HM Armed Forces to civilian life and guarantee an interview for those demonstrating the essential criteria for the role, within three years of leaving the service.

Our commitment to:
Safeguarding
Oxfordshire County Council are committed to safeguarding and promoting the welfare of children, young people and adults. We expect all employees, workers and volunteers to share this commitment. We will ensure that all our recruitment and selection practices reflect these commitments.

Our commitment to:
Flexible Working
We are open to discussions about flexible working, which can include flexi-time, part time working, job sharing, nine-day fortnights and annualised hours, depending on the requirements of the role and the service.

Follow us on Social Media
Stay up-to-date with the latest news and featured jobs from Oxfordshire County Council by following us on LinkedIn, Facebook, Twitter and Instagram.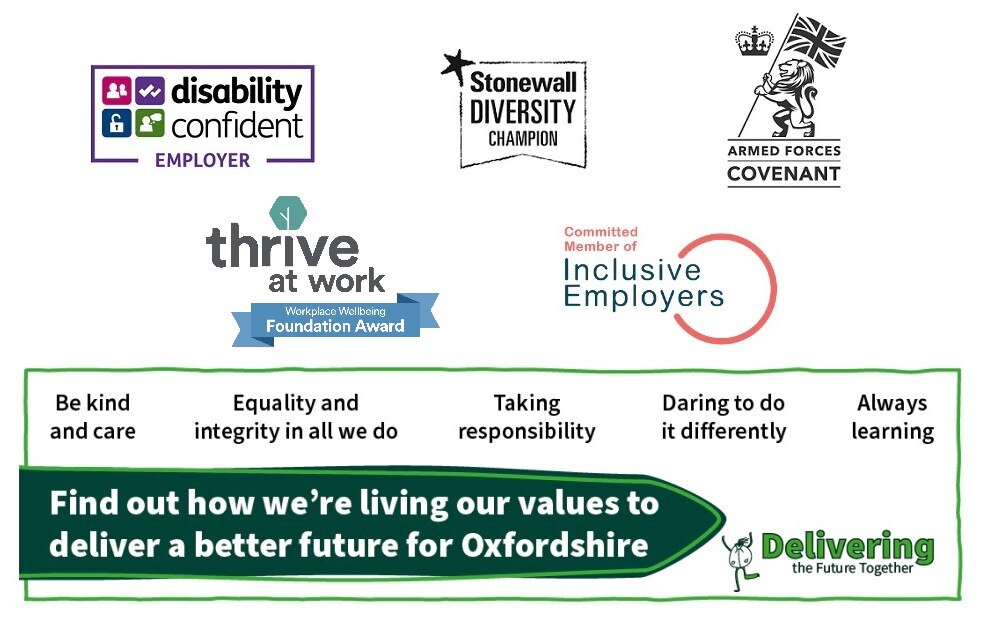 Job Segment: Contract Manager, Relationship Manager, Social Media, Manager, Part Time, Legal, Customer Service, Marketing, Management
Apply now »