Commissioning Manager Health OCC611232
Job details
Salary range: £55,783 - £59,010 (OCC) / £50,952 - £57,349 (CCG) 
Work location: County Hall, Oxford 
Hours per week: 37 hours (OCC) / 37.5 (CCG) - we are open to discussions about flexible working  
Contract type: Permanent 
Vetting requirements: This role is subject to a Criminal Records Check  
Closing date: Tuesday 21st December 2023
Interview date: Provisionally week commencing 8th January 2024
About us
Oxfordshire County Council's, Health, Education and Social Care (HESC) supports a population of 700,000 people across the County. We are focussed on delivering the best life outcomes for every age group and every area of need. We are bringing our local authority and health commissioning of services together in a fresh approach to even better results for our residents.
About the role
As a member of the Health, Education and Social Care Start Well Team, the Joint Commissioning Manager will play a vital role in ensuring the wellbeing of our children and young people  aged 0-18 (and up to 25 with a EHCP), with Learning Disabilities, Mental Health problems, Autism and Physical Disabilities.
The Joint Commissioning Manager will be required to understand the population, their resources, needs, and aspirations, now and in the future. The postholder will be required to work with local people, and our organisational partners, to make the most effective use of local resources and develop solutions to meet needs and aspirations. The Joint Commissioning Manager will play a key role in supporting continuous improvement so we can be even more ambitious for our organisations and communities in the future. The role will require close partnership working with local people, the BOB ICB and providers. This will achieve an evidence based, person-centred, place-based and outcomes focused approach.
The postholder will lead on day-to-day commissioning activities, including developing commissioning intentions, managing risk and working with operational and support services to manage the commissioning cycle. The role will require you to learn and adapt to deliver positive outcomes in efficient and consistent ways, constructively challenging how services are provided and working together to build on our strengths, whilst being a key player in the delivery of the Priority Action Plan following the SEND Local Area Inspection in 2023.
About you
Ideally you will have a relevant qualification or degree in Health, Education, Social Care or Commissioning (or equivalent experience). You will have previous experience of commissioning (preferable in local government or wider public sector including the NHS). You will have the ability to analyse needs, demands and gaps in services working with the data we have available, through research and engagement with our community and stakeholders (including partners). This will require you to have good communication skills (verbal and written) and be able to work in a collaborative way, resulting in the effective design of new or existing services. You will have experience of constructing reports, such as business cases, options appraisal and other associated reports. You will have a good understanding of project management and be able to develop detailed project plans including the management of these and appropriately escalate risks.
We are also looking for:
The ability to work with stakeholders at all levels.

To be able to work flexibly in a fast paced and quickly changing environment.

Able to negotiate with and influence others.

Using a range of tools to support commissioning such as data analysis, cost modelling and associated Microsoft Applications.
Rewards and benefits
Culture of flexible working

Technology to support agile working where role permits

Up to 33 day's holiday p.a. plus bank holidays 

Option to 'buy' additional holiday

Employee Assistance Programme including access to health and wellbeing support

Membership of the Local Government contributory pension scheme, with an employer's contribution of up to 19.9%

Enhanced family friendly policies

Local and national discounts for shopping and travel

Great learning and development opportunities to support your ongoing development
Would you like to know more?
Application Procedure
To apply, please complete an online application form by clicking either of the Apply Now buttons at the top and bottom of this advert. This includes a section asking you to explain how you meet the selection criteria, as specified in the job posting. You may attach a cover letter and/or CV to your application form, however it is not mandatory.   
If you encounter any issues with the maximum character count on your application form, please use this tool to check your text for any hidden HTML characters, which may be taking it over the limit.  
If you experience any technical difficulties whilst completing the application form, please contact the Recruitment Team using Recruitment Application Enquiry Form.  
If you require the application form in an alternative format as part of a reasonable adjustment at this stage of the recruitment process, please contact the Recruitment Team using Recruitment Application Enquiry Form.

Our commitment to:
Equality, Diversity and Inclusion
At Oxfordshire County Council we are proud of our diverse workforce. Everyone is accepted for who they are, regardless of age, disability, gender identity, marital status, race, faith or belief, sexual orientation, socioeconomic background, or on maternity or family leave. We have a number of staff network groups which provide peer support, education and safe spaces for all.

Our commitment to:
Guaranteed Interview Schemes
As a Disability Confident employer, we guarantee an interview for disabled applicants who meet the essential criteria for the job. We also guarantee interviews to care leavers who have completed further education and who meet the essential criteria for the job. For those leaving care without any further education, we guarantee an interview for our apprenticeships. We are also committed to helping and supporting those transitioning from HM Armed Forces to civilian life and guarantee an interview for those demonstrating the essential criteria for the role, within three years of leaving the service.

Our commitment to:
Safeguarding
Oxfordshire County Council are committed to safeguarding and promoting the welfare of children, young people and adults. We expect all employees, workers and volunteers to share this commitment. We will ensure that all our recruitment and selection practices reflect these commitments.

Our commitment to:
Flexible Working
We are open to discussions about flexible working, which can include flexi-time, part time working, job sharing, nine-day fortnights and annualised hours, depending on the requirements of the role and the service.

Follow us on Social Media
Stay up-to-date with the latest news and featured jobs from Oxfordshire County Council by following us on LinkedIn, Facebook, Twitter and Instagram.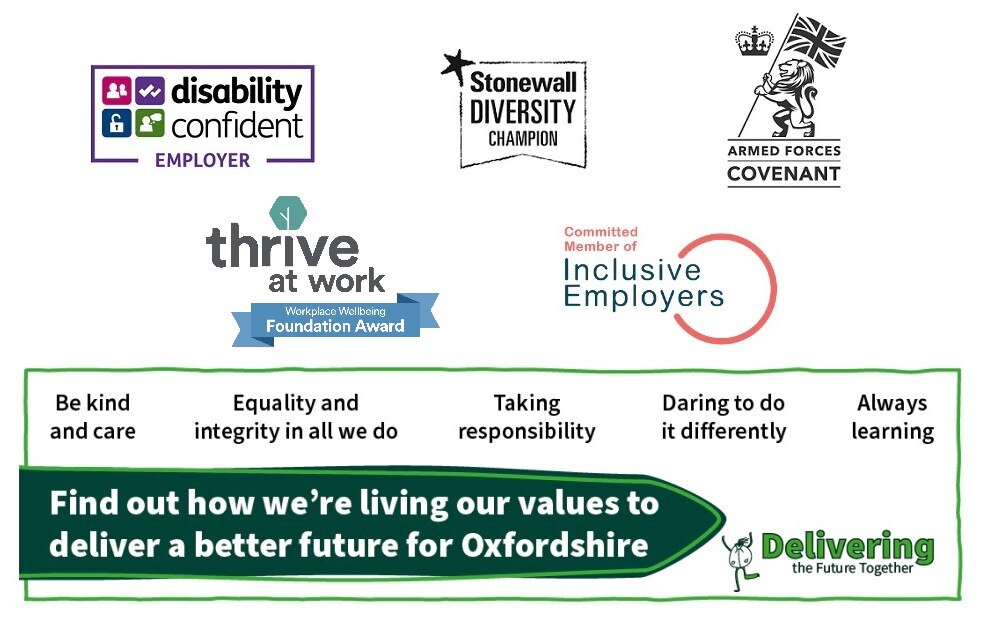 Job Segment: Medical, Social Media, Developer, Banking, Healthcare, Part Time, Technology, Marketing, Finance
Apply now »