Systemic and Family Therapist OCC609408
Job details
Salary range:  £50,952 - £57,349 per annum (All clinical psychology roles are in accordance with the NHS Agenda for Change most recent agreement - 8a)
Work location:  Union Street, Oxford 
Hours per week: 37
Contract type: Permanent
Vetting requirements: This role is subject to a Criminal Records Check and this post is subject to the Childcare (Disqualification) Regulations 2009 and successful candidates will be required to complete a Disqualification Form.  
Closing date: Monday 11th December 2023
Interview date: January 2024
How about joining a vibrant and innovative team composed of Clinical Psychologists, a Counselling Psychologist, a Family Therapist, a Consultant Psychiatrist, a Family practitioner, an Advisory Teacher, and highly experienced outdoor specialists?
About us
Over the past seven years we have quadrupled in numbers, developed very interesting tools, written a residential model, published papers and worked closely with colleagues in Europe. Our outdoor therapeutic centre with mountain bikes, canoes, camping equipment and Land rovers located by the river at a central Oxford location offers an opportunity for truly innovative work. We are also very lucky to have monthly reflective practice with Arlene Vetere who also offers systemic supervision to our trainees.
We are expanding the offer for children, young people and families in Oxfordshire and have some new roles.
Oxfordshire County Council offers very generous work conditions (agenda for change salary and a generous pension amongst others) and this is a team with a strong value base who will fully support you. We want people in our team to thrive in what they do, so they can be the best professionals supporting the children and families we work with.
We work closely together with the Clinical Psychology Doctoral training at Oxford University and supervise trainees in their placements as well as research work. Trainees in Oxford can choose to undertake systemic training.
Oxfordshire County Council's Children, Educational and Families Directorate continual drive for innovation has developed an exciting new role within The Children Social Care Clinical Team. This strategically key role forms part of a wider Clinical Team, which supports young people, families and social care staff and teams across Children's Social Care in Oxfordshire.
About the role
This exciting role will be part of a multi-disciplinary Clinical Team led by a Consultant Clinical Psychologist. This diverse and innovative post will provide the opportunity to utilize the breadth and depth of systemic family intervention as well as support you to further develop your clinical, systemic, and leadership skills. This role will include the facilitation of training to equip the workforce to integrate psychological theory, practice and thinking and develop toolkits to better support children and families. Through a service wide approach this role will support the development and facilitation of Reflective Practice and Psychological Consultation with teams alongside supervision to other professionals both within CEF and within partner agencies e.g., health and education.
We are a creative, dynamic, caring, and reflective team that value the diversity, ideas, and contributions that each member of our team brings. This is reflected in the supportive structure of the team with plenty of opportunities to share evidence-based learning, develop new ideas, share learning from our clinical experience and a variety of spaces for reflection, including our monthly reflective practice sessions facilitated by Dr Arlene Vetere. At our core, we are a team who think, reflect and work systemically through a trauma-informed lens, while drawing on a wide range of evidence-based interventions to inform and guide our work with children, young people and families within the FSS. This is further supported through valued opportunities for further training and CPD activities both externally and internally within the service. As a team, we hold a service wide systemic lens focusing on service development. We continue to learn from the services and teams we support alongside the experiences of children, young people and families to continually shape and develop the service and our clinical offers. As a team and across social care, we work with children, young people and families with diverse needs and cultural experiences, and we hope to reflect and value this diversity as a Clinical Team.
About you
In this capacity you will also have an exciting opportunity to contribute and assist in overseeing the Council's strategy to champion vulnerable young people and their families. This role will also include direct work within the families providing specialized psychological assessments, family therapeutic interventions and highly specialist resource to the wider professional community. This role will have a valuable and important role to ensure that the outcomes of the service are delivered in line with Oxfordshire's principles and values for working with partners, young people and families to continue to meet the needs of young people living in supported accommodation across Oxfordshire.
We welcome applications of highly motivated individuals who are ready to take an active role in working with a well balance, value driven and very energetic team, to meet the needs of the population we serve. We hope to carry out the interviews face-to-face if possible; however, we are also prepared for interviews to take place online. 
Rewards and benefits
Culture of flexible working

Technology to support agile working where role permits

Up to 33 day's holiday p.a. plus bank holidays  

Option to 'buy' additional holiday

Employee Assistance Programme including access to health and wellbeing support

Membership of the Local Government contributory pension scheme, with an employer's contribution of up to 19.9%

Enhanced family friendly policies

Local and national discounts for shopping and travel

Great learning and development opportunities to support your ongoing development
Would you like to know more?
Application Procedure
To apply, please complete an online application form by clicking either of the Apply Now buttons at the top and bottom of this advert. This includes a section asking you to explain how you meet the selection criteria, as specified in the job posting. You may attach a cover letter and/or CV to your application form, however it is not mandatory.   
If you encounter any issues with the maximum character count on your application form, please use this tool to check your text for any hidden HTML characters, which may be taking it over the limit.  
If you experience any technical difficulties whilst completing the application form, please contact the Recruitment Team using Recruitment Application Enquiry Form.  
If you require the application form in an alternative format as part of a reasonable adjustment at this stage of the recruitment process, please contact the Recruitment Team using Recruitment Application Enquiry Form.

Our commitment to:
Equality, Diversity and Inclusion
At Oxfordshire County Council we are proud of our diverse workforce. Everyone is accepted for who they are, regardless of age, disability, gender identity, marital status, race, faith or belief, sexual orientation, socioeconomic background, or on maternity or family leave. We have a number of staff network groups which provide peer support, education and safe spaces for all.

Our commitment to:
Guaranteed Interview Schemes
As a Disability Confident employer, we guarantee an interview for disabled applicants who meet the essential criteria for the job. We also guarantee interviews to care leavers who have completed further education and who meet the essential criteria for the job. For those leaving care without any further education, we guarantee an interview for our apprenticeships. We are also committed to helping and supporting those transitioning from HM Armed Forces to civilian life and guarantee an interview for those demonstrating the essential criteria for the role, within three years of leaving the service.

Our commitment to:
Safeguarding
Oxfordshire County Council are committed to safeguarding and promoting the welfare of children, young people and adults. We expect all employees, workers and volunteers to share this commitment. We will ensure that all our recruitment and selection practices reflect these commitments.

Our commitment to:
Flexible Working
We are open to discussions about flexible working, which can include flexi-time, part time working, job sharing, nine-day fortnights and annualised hours, depending on the requirements of the role and the service.

Follow us on Social Media
Stay up-to-date with the latest news and featured jobs from Oxfordshire County Council by following us on LinkedIn, Facebook, Twitter and Instagram.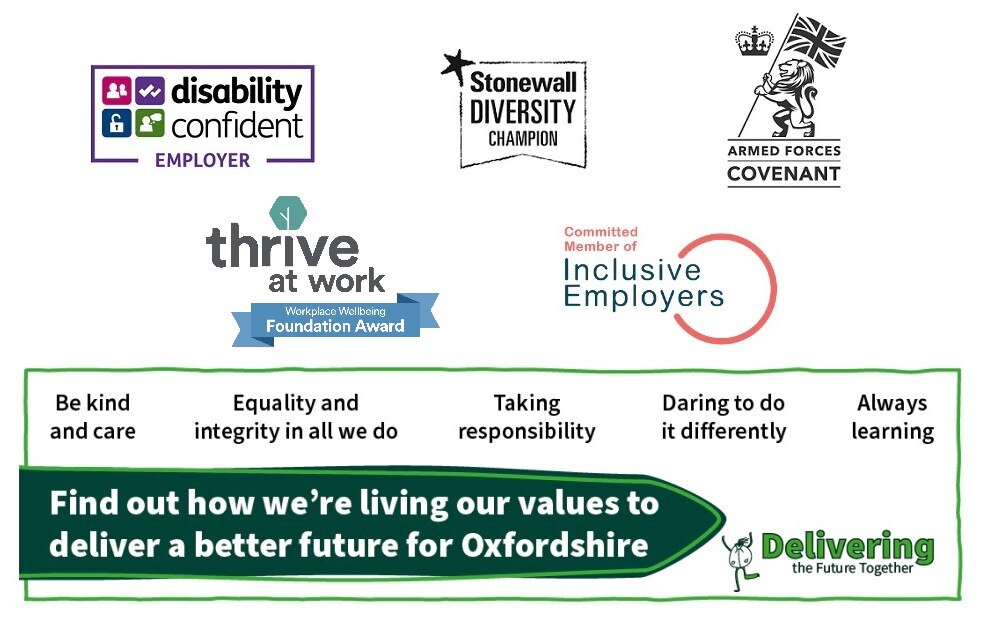 Job Segment: Developer, Sharepoint, Social Media, Banking, Part Time, Technology, Marketing, Finance
Apply now »