Job details
Salary range: £32,076 - £38,223 per annum 
Work location: County Hall, Oxford
Hours per week: 37 - we are open to discussions about flexible working   
Contract type:  Temporary until 31/08/2024
Closing date: Sunday 10th December 2023 -  Applications will be reviewed ahead of the closing date and we reserve the right to close this vacancy early if we receive sufficient applications for the role. Therefore, if you are interested, please submit your application as early as possible.
Continue to build your HR career in this generalist, HR Adviser role.
About us
Here at Oxfordshire County Council, we are on an incredibly exciting journey as we continue to work on our change programme Delivering the Future Together, looking at our vision, values, mindsets and behaviours across the organisation.
About the role
As an HR Adviser you will work with, and be supported by,  the Senior HR Advisers to provide first class, customer focussed, advice and guidance on all employee relations matters. This includes conduct & capability management this encompasses supporting at formal hearings and occasionally tribunal hearings; responding to grievances with a focus on early informal resolution and where necessary supporting at formal meetings; enabling quality investigations which will include reviewing /contributing to investigation reports;  the full spectrum of attendance management with a high focus on wellbeing. In addition to coaching and mentoring managers and employees, you will be involved in developing training materials and delivering training sessions on key HR topics.
As a valued member of the HR Team, the role holder will guide and influence managers to ensure fairness and consistency in their decision making. The role holder will be an excellent communicator who is adept at building rapport and this will be evident through their effective working relationships with colleagues  at all levels.
This role is a particularly good opportunity for someone who is looking for an environment where there is a platform to learn and grow your HR practise with an abundance of professional support available.
About you
We are looking for someone who has experience of working in a Human Resource team and ideally, be CIPD qualified and/or willing to work towards this.
You will need to be able to multi-task, manage and prioritise your workload, with the ability to work on your own initiative and operate to deadlines.
Rewards and benefits
Culture of flexible working 

Technology to support agile working where role permits 

Up to 33 day's holiday p.a. plus bank holidays 

Option to 'buy' additional holiday 

Employee Assistance Programme including access to health and wellbeing support 

Membership of the Local Government contributory pension scheme, with an employer's contribution of up to 19.9% 

Enhanced family friendly policies 

Local and national discounts for shopping and travel 

Great learning and development opportunities to support your ongoing development 
Would you like to know more?
Application Procedure
To apply, please complete an online application form by clicking either of the Apply Now buttons at the top and bottom of this advert. This includes a section asking you to explain how you meet the selection criteria, as specified in the job posting. You may attach a cover letter and/or CV to your application form, however it is not mandatory.    
If you encounter any issues with the maximum character count on your application form, please use this tool to check your text for any hidden HTML characters, which may be taking it over the limit.   
If you experience any technical difficulties whilst completing the application form, please contact the Recruitment Team using Recruitment Application Enquiry Form.   
If you require the application form in an alternative format as part of a reasonable adjustment at this stage of the recruitment process, please contact the Recruitment Team using Recruitment Application Enquiry Form. 

Our commitment to:
Equality, Diversity and Inclusion
At Oxfordshire County Council we are proud of our diverse workforce. Everyone is accepted for who they are, regardless of age, disability, gender identity, marital status, race, faith or belief, sexual orientation, socioeconomic background, or on maternity or family leave. We have a number of staff network groups which provide peer support, education and safe spaces for all.

Our commitment to:
Guaranteed Interview Schemes
As a Disability Confident employer, we guarantee an interview for disabled applicants who meet the essential criteria for the job. We also guarantee interviews to care leavers who have completed further education and who meet the essential criteria for the job. For those leaving care without any further education, we guarantee an interview for our apprenticeships. We are also committed to helping and supporting those transitioning from HM Armed Forces to civilian life and guarantee an interview for those demonstrating the essential criteria for the role, within three years of leaving the service.

Our commitment to:
Safeguarding
Oxfordshire County Council are committed to safeguarding and promoting the welfare of children, young people and adults. We expect all employees, workers and volunteers to share this commitment. We will ensure that all our recruitment and selection practices reflect these commitments.

Our commitment to:
Flexible Working
We are open to discussions about flexible working, which can include flexi-time, part time working, job sharing, nine-day fortnights and annualised hours, depending on the requirements of the role and the service.

Follow us on Social Media
Stay up-to-date with the latest news and featured jobs from Oxfordshire County Council by following us on LinkedIn, Facebook, Twitter and Instagram.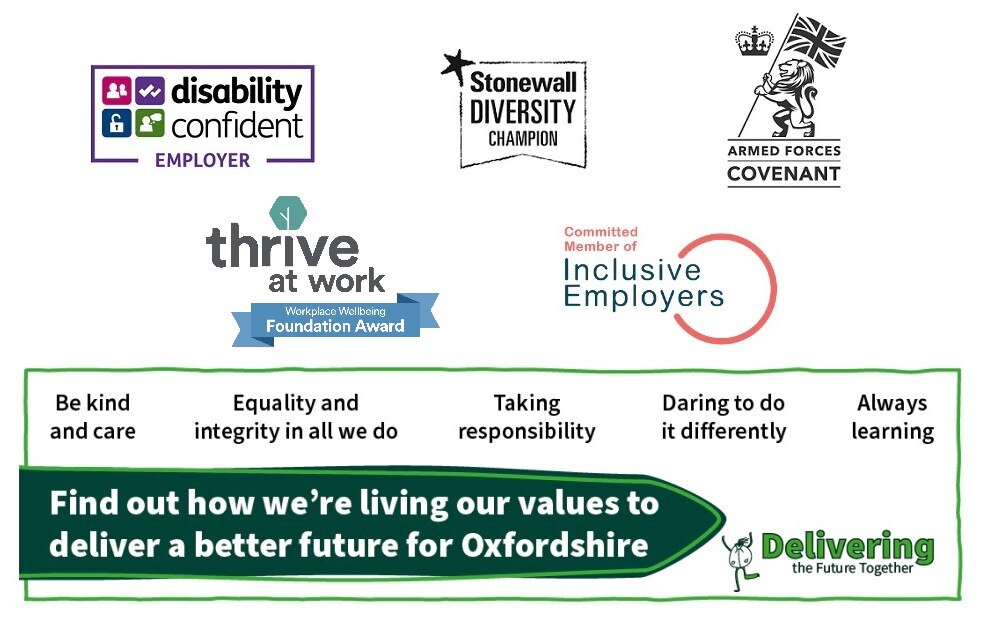 Job Segment: Developer, Social Media, Bank, Banking, Part Time, Marketing, Technology, Finance
Apply now »