Our commitment to the Armed Forces Covenant
Veterans, family, carers - find help and information on the Veterans' Gateway
The Armed Forces Covenant is a promise by the nation ensuring that those who serve or who have served in the armed forces, and their families, are treated fairly. Hammersmith & Fulham Council signed an Armed Forces Community Covenant in March 2012.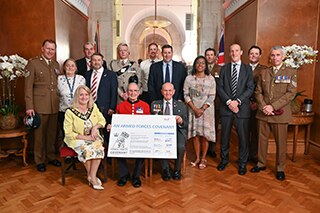 Our aims
The aims of the Community Covenant are to:
encourage local communities to support the Armed Forces community in their areas
nurture understanding and promote awareness among the public of issues affecting the Armed Forces community
recognise and remember the sacrifices faced by the Armed Forces community
encourage activities which help to integrate the Armed Forces community into local life
encourage the Armed Forces community to help and support the wider community, whether through participation in events and joint projects, or other forms of engagement
The London Armed Forces Community Covenant seeks civic support in the following broad areas:
adult support to cadet forces
enabling recruitment
allowing work and training
housing
school transition of service children
medical and welfare pathways
veterans
local security post operations
homecoming parades
support to reservists
Our promise
Our promise to support Armed Forces personnel and their families as well as veterans by:
providing a housing ladder of opportunity for veterans who need to access affordable social housing
assisting with requests for adapted home for wounded soldiers
supporting and participating in homecoming and other military events such as the freedom of the borough parade in March 2012
recognising the achievement of the borough's Territorial Army Regiment, the Royal Yeomanry, by conferring the freedom of the borough in January 2012 and any other military regiment within the borough
supporting and recognising the achievement of staff who volunteer in military reservist units
encouraging adult involvement with cadet forces by attending passing out parades, awards evenings and by involving cadets in mayoral functions at the town hall and in the Remembrance Sunday event
Hammersmith & Fulham Council is supporting the Royal British Legion's Count Them In campaign.
The campaign calls for improvements to the 2021 census so we can better understand the Armed Forces community and help to ensure politicians, charities and service providers fully meet the needs of our serving personnel, veterans and their families.